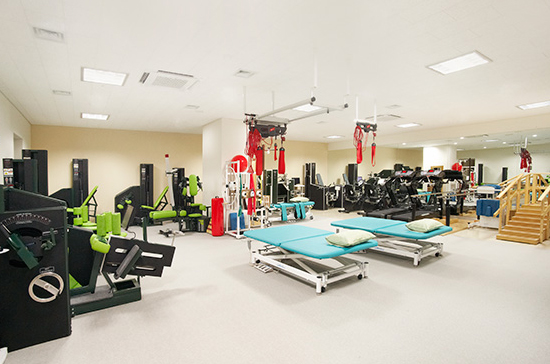 Rehabilitation Center at Bumin Hospital provides
One-stop rehabilitation treatment in a spacious and relaxing environment
Specialized rehabilitation staff, medical professionals are working together to offer you the best rehabilitation care. Offering 1:1 customized rehabilitation program, patients in different ages can benefit from various rehabilitation programs at Bumin, such as outpatient rehab treatment, inpatient rehab treatment, pediatric rehab treatment
What is a rehabilitation therapy?
Specialists, who received physiotherapist training in the field of musculoskeletal diseases, conduct a thorough study and apply the most appropriate therapeutic treatment according to the patient`s posture, pain symptoms, professional or social activity. Orthopedic physical therapy, sports therapy, and other types of non-surgical methods of treatment are intended to maximize the patient`s recovery from the discomfort and limited functions of the body. Also there are programs, that are created for systematic phase rehabilitation after each type of surgical or non-surgical treatment. Intensive rehabilitation therapy is aimed at patient`s early return to normal life.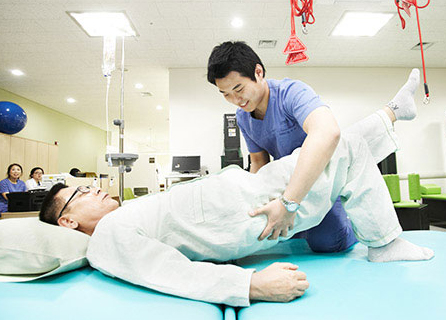 SwimEx 1000T

Rehabilitation equipment that is suitable both for patients that only received surgical treatment, and for sportsmen who need highly-intensive training.

SwimEx rehabilitation therapy equipment is mainly used by sport teams such as Doosan Bears, New York Yankees, and others. It has a wide variety of therapeutic purposes, and in particular has significant rehabilitation effect for patients with problems in various joints and spine, suffering from sport injuries.

HUBER MOTION LAB

This training equipment aims to strengthen main muscle groups, based on the most modern 3D moving platform.

While the body moves back and forth and from side to side pressing pedal and holding handles, this exercise strengthens the back muscles by means of causing muscular tension.

Centaur

This is a 3-D equipment used to stabilize spine and musculoskeletal system.

After anthropometric data is filled in, exercise during which patient does not feel pressure and body weight starts. This exercise helps to strengthen deep muscles.
This is an effective treatment method for rehabilitation of the patients that suffer from herniated discs, spinal stenosis, and degenerative diseases of the lumbar discs.